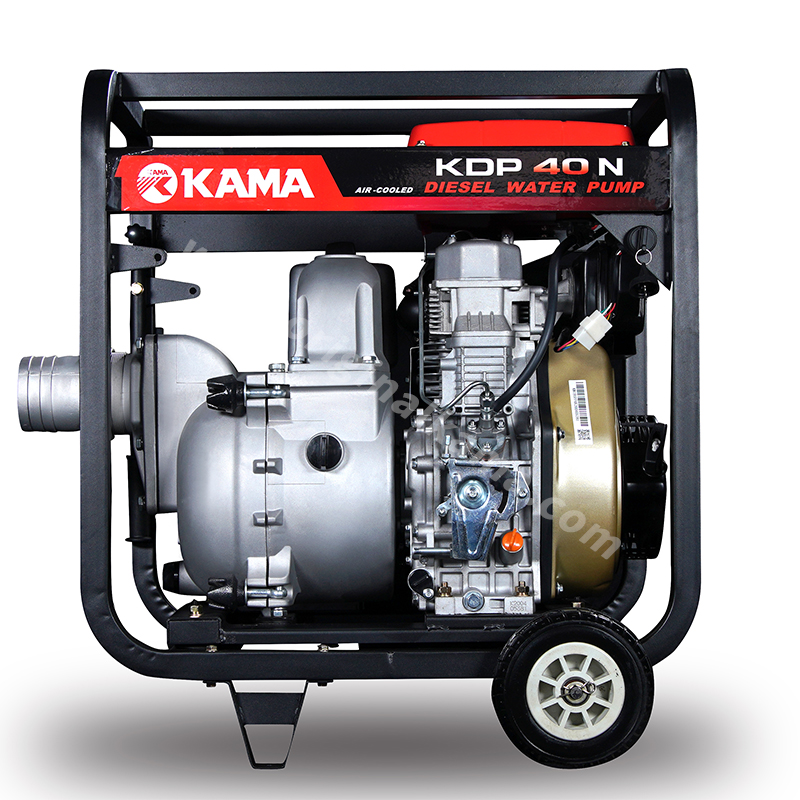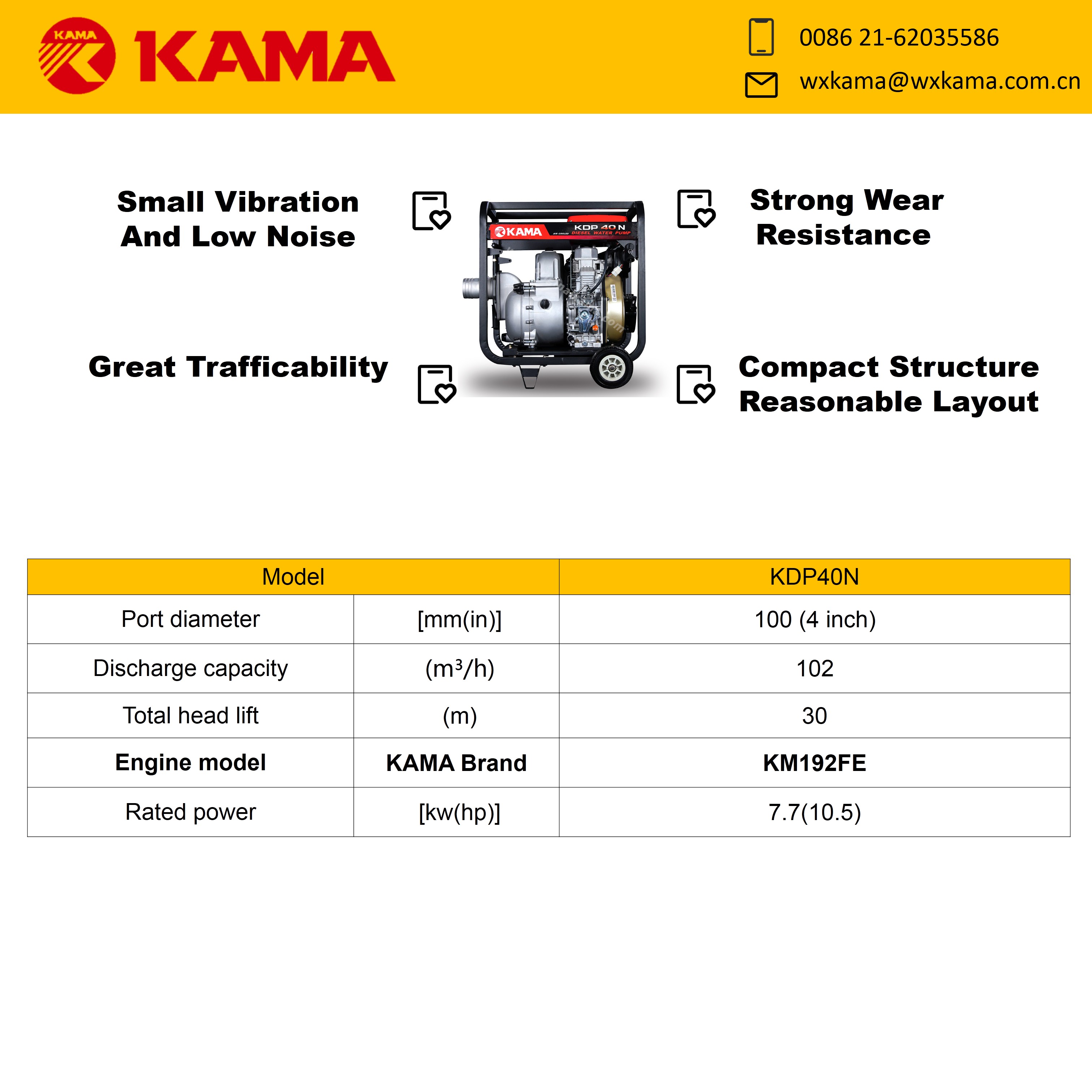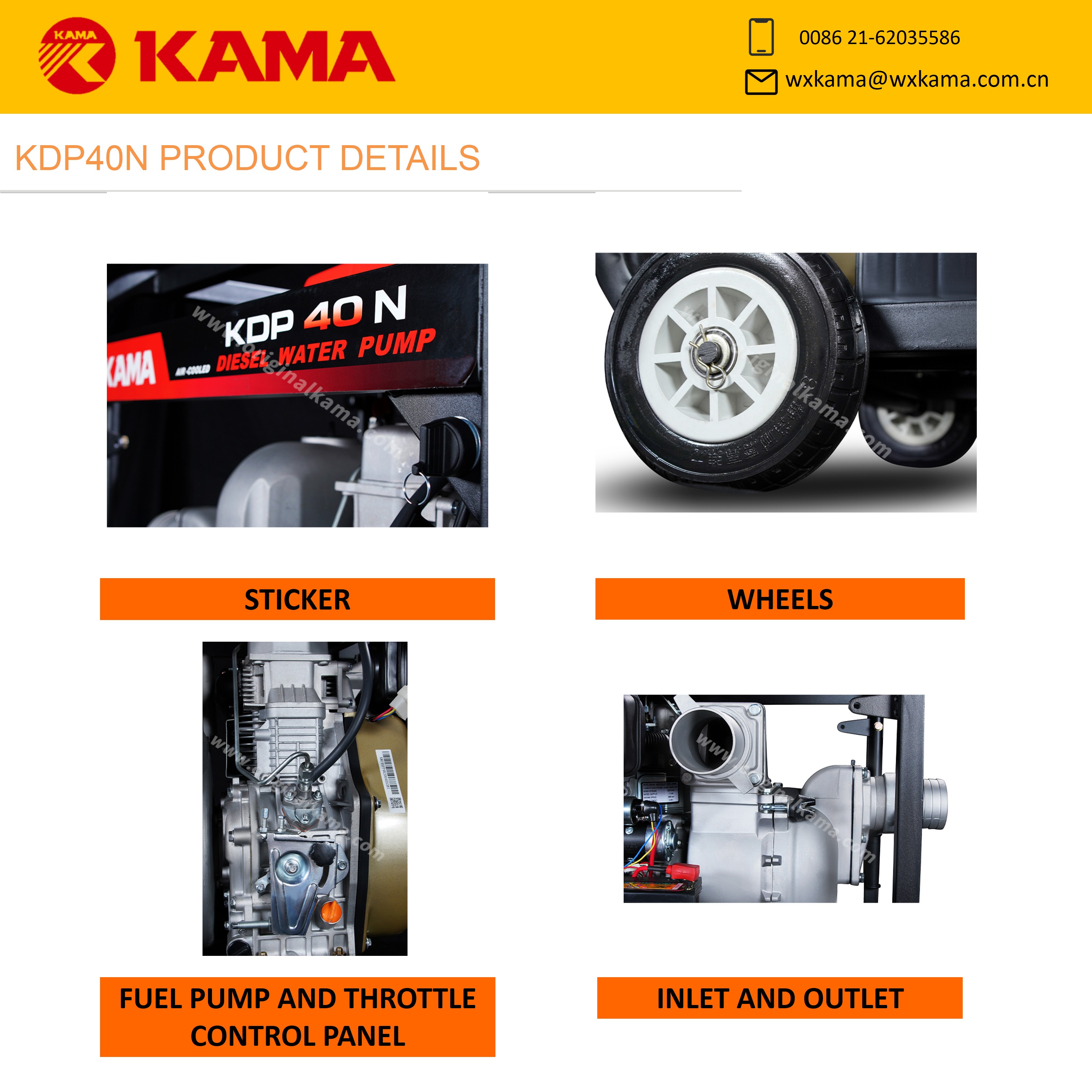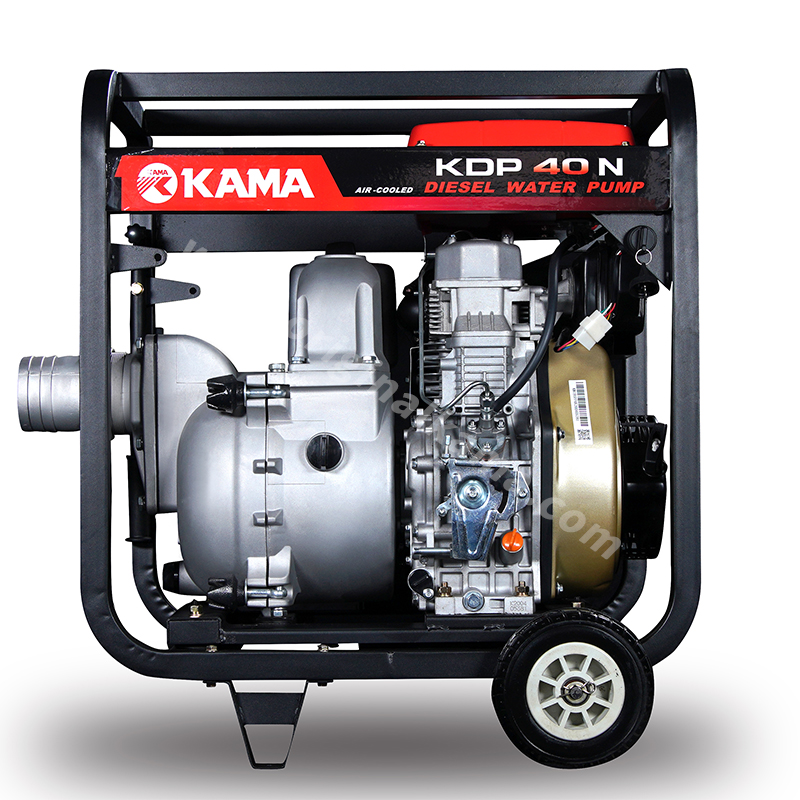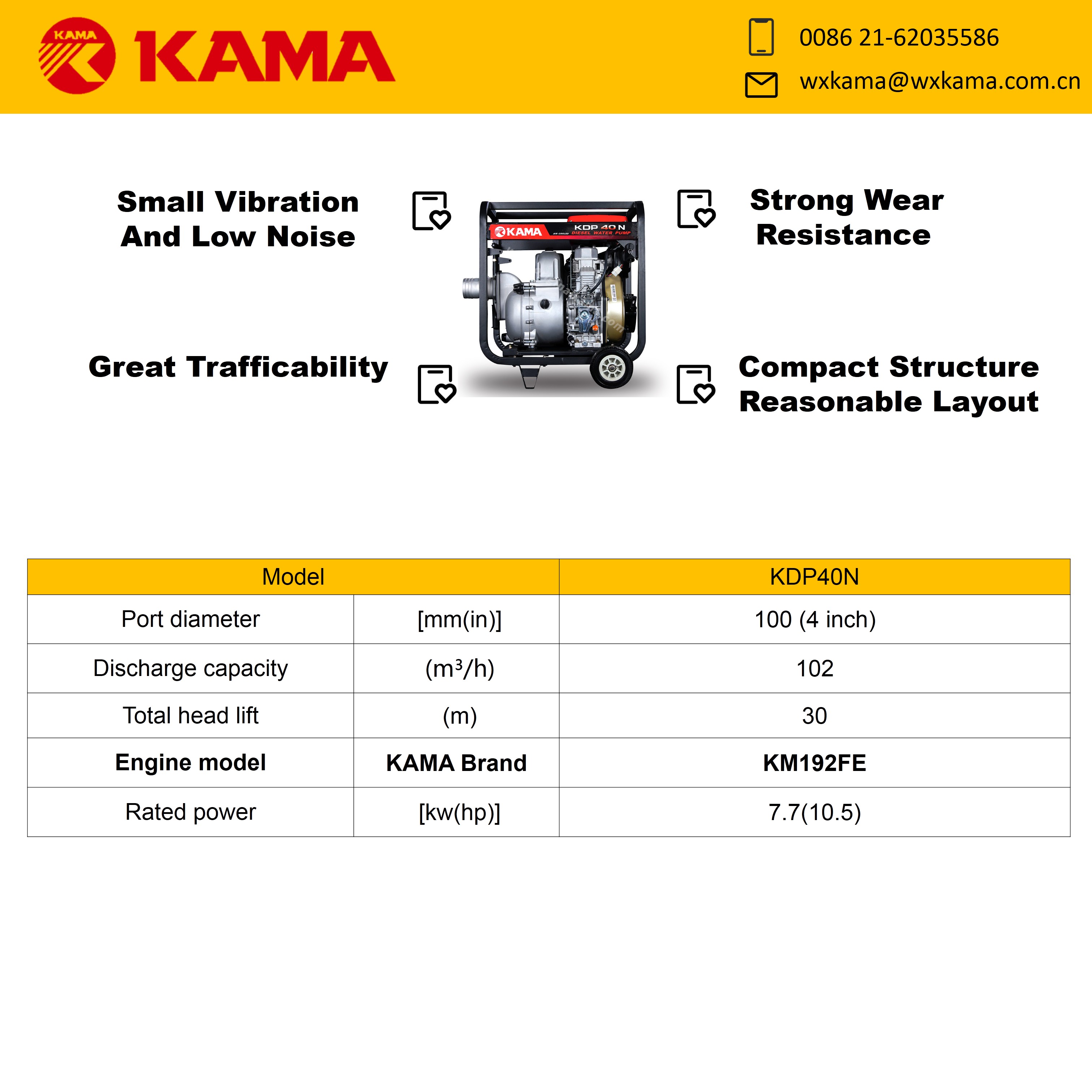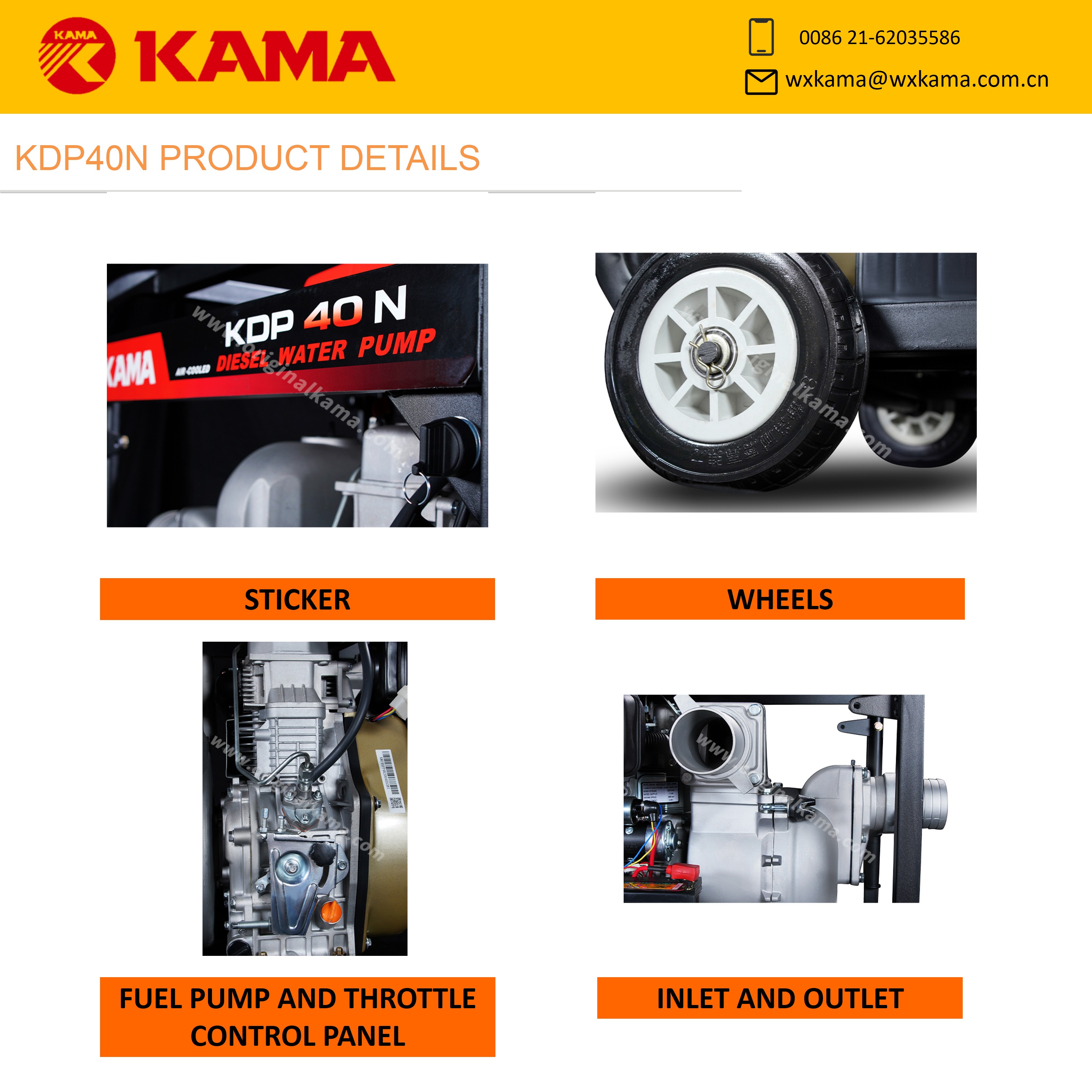 MUD WATER PUMP-KDP40N
CCCME Member
Recommended by CCCME
Product Details

Company Profile
4-inch mud water pump
KDP40N is our KAMA new product Mud Pump.
It has strong wear resistance.
It has great trafficabity. Because it is specailly designed to handle mud water, sewage and other slurry with suspended particles.
It has low noise and small vibration.
Its head lift is 30 meters.
The discharge capacity is 102 cubic meter per hour.
It is equipped with KAMA diesel engine KM192FE.
Advantages:
1. High cost performance and fuel saving. KAMA strong and efficient direct injection single cylinder air-cooled diesel engine is adopted to ensure low fuel consumption and save use cost.

2. High lift and fast water flow. It has strong power, efficient impeller and good sealing. These greatly improve the lift, and shorten the self-priming time.

3. Easy to use. The structure is compact and the design is light. The inlet and outlet pipe adopt quick change joint, which is safe and convenient to use.

4. Easy to start.The power adopts direct injection air-cooled diesel engine. With the electric starting device, the unit is easier to start.

5. Reliable and durable. High quality aluminum alloy material and reinforced pump cover structure design, matched with KAMA safe and reliable power, make the water pump durable and reliable.

6. Easy to maintain. It adopts the open frame direct connection structure, maintenance free aluminum alloy self-priming pump body, the overall structure design is reasonable and convenient for maintenance.

7. Excellent performance, energy saving and environmental protection. KAMA ENGINE has a number of patented combustion and low emission technologies to effectively improve product performance, with sufficient power, low fuel consumption and less pollution.
8.Mature technology and stable product quality.The KAMA POWER has developed and produced vertical single cylinder air-cooled diesel engine and diesel water pump for more than 20 years, with advanced production equipment, mature assembly process and complete quality control means, which is conducive to the stability of product quality.
9.Lightweight and compact design.The whole machine is light and reasonable in design, compact in structure and handle easily.
10.Highly localization, favorable to replace import.The company has formed a complete national parts supporting system, with stable quality and reasonable structure. Through continuous optimization and improvement, its main performance has been superior to similar foreign products, which is conducive to replacing imports.